About Phyllo Bar Melina's
Phyllo Bar Melina's is the coziest snack counter in town, serving up authentic Greek Phyllo pies like Spanakopita, Tyropita, Prassopita & Bougatsa.
Whether you're craving something savory or sweet, we've got you covered and our Greek coffee game is second to none!
But we're more than just a takeout counter. Melina's is a welcoming agora that pays tribute to Greece's modern golden era of the 1950s-1970s, a time when Greek culture flourished in places like Montreal and Toronto. At the time, Parc Avenue in Montreal was a hub of Greek tavernas, bouzouki bars, and even the beautiful Rialto theatre that played films from Greece, including Melina Mercouri classics.
Speaking of Melina, she was a true Greek legend – an actress, philanthropist, and political activist who fought for causes she believed in, like the return of the Parthenon Marbles.
At Phyllo Bar Melina's, we honor her legacy by serving up delicious food in a space that celebrates Greek culture and history. Come by and see us for a taste of Greece and a dose of the old country!
Spanakopita
Spinach and feta phyllo pastry.
Tyropita
Feta and ricotta phyllo pastry.
Prassopita
Vegan phyllo spiral stuffed with leek and potato.
Bougatsa (sweet)
Vanilla custard phyllo topped with powdered sugar and cinnamon.
Phyllo Trio
Choice of phyllo + Greek salad or soup of the day + drink.
Frozen Phyllo (4-5 portions)
Melina Sandwich
Half baguette with spicy feta and roasted red pepper spread, olive hummus, cucumber and tomato.
Jules Sandwich
Half baguette with sundried tomato paste, marinated eggplants olive hummus, cucumber and tomato.
Greek Salad
Tomato, cucumber, feta with extra virgin olive oil.
Soup of the Day (seasonal)
Vegan soup of the day.
Sandwich Trio
Choice of sandwich + Greek salad or soup of the day + drink.
Tapenades & Dips
Tzatziki, Olive Hummus, Kafteri, Jules Antipasto.
Orange Cake
Orange cake lightly drenched in citrus syrup.
Chocolate Bruffin
Gluten free chocolate cake with a crispy exterior and chewy interior.
Honey and Spice Cookie
Soft honey cookie with our warm spice blend.
Olive Oil Biscotti
Vegan olive oil biscotti with orange zeste.
Chocolate Walnut Cookie
Soft cookie with dark chocolate chunks and walnuts.
Almond Meringue
Light and crispy gluten free meringue with almond meal.
Baklava
Buttery baklava with pistachios.
Hot Coffee & Drinks
Hot Frappé
Frothy and rich coffee made with instant coffee.
Greek Coffee
Strongly brewed coffee.
Herbal Tea
A blend of organic greek herbal teas.
Cold Coffee & Drinks
Mastiqua
Sparkling water scented with mastic resin from Chios.
Greek Frappé
Frothy and rich iced coffee made with instant coffee, milk & ice.
Freddo Espresso
Double long espresso blended and frothed with ice.
Freddo Cappuccino
Double espresso shot with a layer of floating, frothy milk.
Green Cola (Stevia)
Soda imported from Greece. Original or sour cherry.
lvi Greek Sodas
Orange, Sparkling Lemon, Sparkling Orange
Catering and Large Orders Available!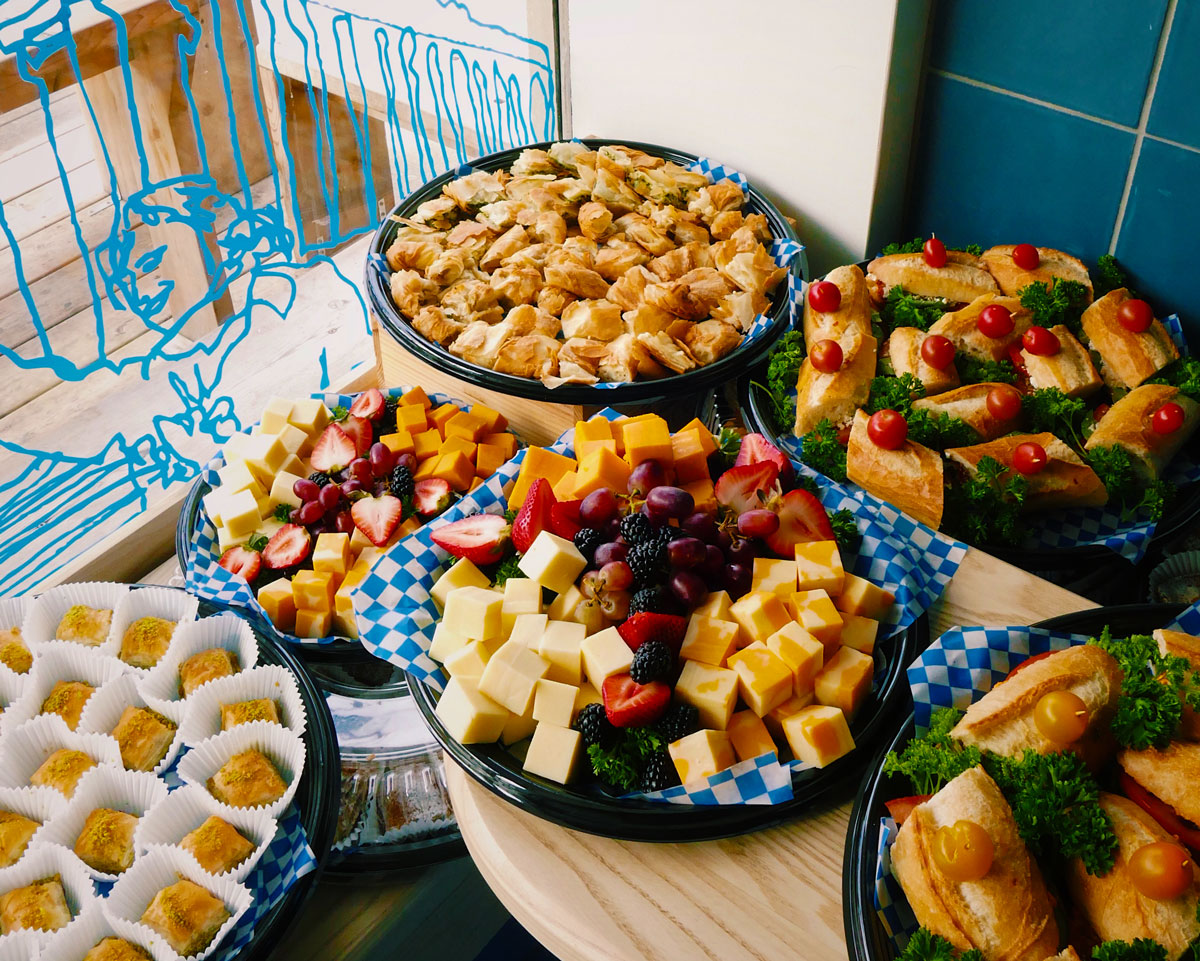 Are you planning a corporate event, wedding, or family gathering and you just can't get enough of our Phyllo pastries? Indulge in the authentic flavors of Greece with Phyllo Bar Melina's catering services!
From large orders of our beloved Phyllo pies, including Spanakopita, Tyropita, Prassopita, and Bougatsa, to a variety of soups, sandwiches, desserts, and cookies, if you want to impress your guests and make your event memorable, look no further than Melina's!
Come Visit!
Address
5733 Park Ave, Montreal, Quebec H2V 4H2

Telephone
(514) 270-1675

Opening Hours
Monday 8 a.m.–7 p.m.
Tuesday 8 a.m.–7 p.m.
Wednesday 8 a.m.–7 p.m.
Thursday 8 a.m.–7 p.m.
Friday 8 a.m.–7 p.m.
Saturday 10 a.m.–7 p.m.
Sunday 10 a.m.–7 p.m.